About Us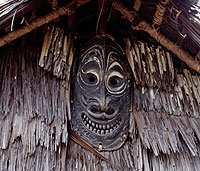 We have the largest selection of Papua New Guinean tribal art for sale in North America.
Collecting tribal art from New Guinea is a family tradition, dating back to 1966 when Reptile Gardens' globe-trotting founder, Earl Brockelsby first visited the island. Today, Mr. Brockelsby's nephew, Joe Maierhauser, President and CEO of Reptile Gardens, continues to uphold this family legacy by collecting the tribal art of this region.
Located on the grounds of Reptile Gardens, the Jungle Outpost Gallery maintains an inventory of thousands of pieces of tribal art, gathered primarily from the Sepik River, Highlands, and Papuan Gulf.
Joe Maierhauser
My obsession with the art of New Guinea started when my uncle, Reptile Gardens' founder, Earl Brockelsby brought back some artifacts from this island country in 1966. In the 25 years I have been seriously dealing in New Guinea art, we have sold thousands of masks, figures and other artifacts, not only to people from the region, but also to customers in all 50 states and in over 25 countries.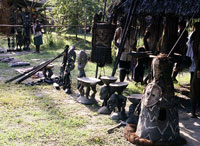 (I'm also pleased my family allowed me to indulge my passion and offer this unique art in the Jungle Outpost giftshop at Reptile Gardens…at first blush we assumed it would be something that would have a very limited appeal, but fortunately that assumption was incorrect).
Lynda Mitchell
Lynda is our Gallery Sales Associate, and the person you will be talking with or emailing when you contact us. She is well versed in the art of New Guinea and thrilled to share her knowledge and excitement for this unique art with Guests to our physical shop in South Dakota or with our online customers.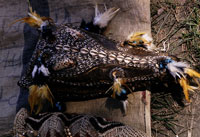 After discovering New Guinea tribal art at an early age, Lynda has been infatuated with this unique art since her first introduction. Once she discovered we were not only a source for this unique art right in her home state of South Dakota, but that we are also the largest offering of New Guinea art in the US, she joined our team in 1998 – and the rest, as they say, is history.
During January and February you can find Lynda proudly representing us at the Tucson Gem & Mineral Show doing what she does best… talking about and selling New Guinea art.