Cart
Your cart is currently empty.

New Guinea Tribal Art eGuide
Available on amazon.com and iTunes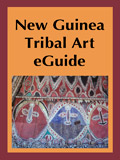 Find out about your fabulous piece of New Guinea tribal art. The eGuide provides quick info about New Guinea art and art areas with links to more information. The eGuide contains over 130 photographs and 10 maps, plus adventure photos from Ron Perry's forty years of explorations in New Guinea and additional research by Doug Mehaffey. A print edition would be 128 pages.
The eGuide is an easily accessible, portable guide for electronic reading devices. Enjoy collecting and living with the beauty and power of New Guinea tribal art.
---
Customer Login

Jungle Outpost - Reptile Gardens PO Box 620 Rapid City, SD 57709 Contact Us
All content Copyright © 2020Joe Maierhauser. ALL rights reserved;do not reproduce without written consent.